Staying far away from your best friend is hard. There are several social networking sites, but nothing can really replace knowing your best friend is just there. Luckily, though, there are now devices that can assist bridge that gap: long-distance friendship lamps.
These lamps give you a way to let your best friend know you are thinking of her silently, and vice versa. Once you and your best friend buy a set, you will be connected with them to your home Wi-Fi networks and each other. Then, when you think of your distant friend, all you have to do is tap your lamp, and your friend's lamp will illuminate wherever he/she may be. Some even allow you to select a specific color to represent you or connect a group of friends on the same larger lamp network.
How to set up?
The Friendship Lamp can be set up very quickly, and if you require any help or have any questions, just contact the customer care team, and respond quickly.
Plug the lamp: Just plug in your lamp and set-up a Wi-Fi link.

Connect it: Connect it to your group ID. The Group ID is meant to provide you with a fast and secure connection with other lamps in your group. The ID is typed on the smartphone while setting up the Wi-Fi connection and makes a secure group. The idea is not just security, though. If you want to add more lamps to the group in the future, you can use the same Group ID when setting up those new Friendship Lamps.

Have fun: Touch the lamp and let your dear ones know that they are on your mind!
Features of long-distance friendship lamps
These products are made to the best quality standards.

Plug in the lamp and establish a Wi-Fi connection. 

You can purchase these products online and that too at a pocket-friendly price.

These are remarkably easy to set up. All it requires is the touch of a hand to get in touch with someone you care for anywhere.
Once they are set up, there is really nothing you need to do apart from touching the sensor plate to activate all the other lamps in the group to light up in your chosen color. Ensure the unit is on power at all times. A USB cable is offered for your ease so, you can clasp it up to your PC, another USB power source, or plug it into a wall outlet.
Providing they are plugged into a power source, switched on, and connected to Wi-Fi, they will work anyplace. You do not have to set it up more than once in a specific location. For instance, if you are taking your Friendship Lamp and using it at your workplace and bringing it back house to connect it every night, it will keep in mind both Wi-Fi networks and automatically connect once it is powered on.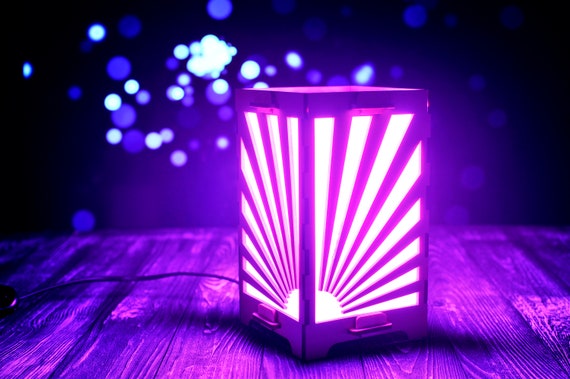 Benefits of Friendship Lamp
A friendship lamp can assist people in staying in touch when they are divided by distance. You can buy two friendship lamps, and each person will keep one for themselves. From there, they can just connect the friendship lamp and join it to Wi-Fi anyplace in the world. When the two lamps are linked, all one individual has to do is tap the lamp, illuminating the other individual's lamp. This will allow them know that they are thinking of the other person, no matter where they are across the globe. This is a really easy and quick way for busy people to keep in touch and act as a gentle reminder to call that person or organize a catch-up as soon as possible. For a few, it is enough to just put a smile on their face even if they have had a bad day.
While dear ones can be contacted through social media and apps quickly, this can sometimes feel a little unfriendly. People can also frequently struggle to find the time to use such communication methods, particularly when traveling. Thus, choosing a friendship lamp can be an incredible way to connect with a more significant way, even for those who have little extra time in their day. All in all, friendship lamps can be a delightful gift that can help illuminate a loved one's life.
Who can benefit from this lamp?
This lamp is a blessing for people who stay away from each other. Whether it is parents, lovers, grandparents, or siblings, it will make sure you stay connected to those who matter. If you are romantic and emotional at heart, this product is worth investing in. If you have a special person in your life who happens to stay far away, then these touch lamps are the most excellent gift for any occasion. Whether it is for a unique event like Valentine's Day, Christmas, Mother's Day, Father's Day, birthday, or an anniversary, these lamps make wonderful friendship gifts.
From where can we buy Friendship Lamps?
You can buy this unique set of lamps from any trustworthy online portal. Each lamp goes through thorough quality control checks before being shipped off to you, guaranteeing that the lamp will work flawlessly when you take it out of the package. Moreover, each lamp comes with a year's warranty. If you have any problems with your lamp in the first year, you can get in touch with customer care as they will help you resolve the issue in no time.
Final Thoughts
If you are looking for a thoughtful gift for your loved ones, long-distance friendship lamps are the best option available. This is a new, distinctive, and caring way to allow someone to knows you are thinking about them irrespective of distance or time. Friendship lamps are an excellent gift for any occasion and work with family members, friends, loved ones, and significant others. With a simple touch, you can let people know you are thinking about them from across the city or the world.
I m a passionate blogger. I have completed my MBA in IT and marketing also worked as an SEO Executive for 3 years. Now I v around 2 years of experience in writing content with multi-directional topics. I used to spend a lot of time surfing to getting exposed to the multi-topics & day to day arena of knowledge. My words have touched millions of people. Basically, I put love into words and help you connect to matters thoroughly and simply.