Rajasthan is the city of Royals, camels, culture, food, vibrant colors, and so much more. Moreover, this land of palaces and forts is one of the best places to visit in India. Therefore, nothing can ever match the glory of this place. Apart from regal locations, Rajasthan is also home to several colorful cities. Plus, Udaipur is entirely white, while Jaipur is known as Pink City. On the other hand, Jhalawar is purple, Jodhpur is blue, and Jaisalmer is golden. As a tourist in Rajasthan, you can visit this place to explore the beauty. Therefore, If you have the right Rajasthan tourist map, you can explore every nook and corner of the area in no time.
The wide range of tourist places in Jaipur, Jaisalmer, Jodhpur, and more made it one of the must-visit places. Rajasthan is not only a desert but so much more, as it is the home to several lakes, mountains, and forts. Moreover,  many forts and beautiful architectural structures of the place are all World Heritage sites by UNESCO.
How to plan a trip as a tourist in Rajasthan?
If you're a tourist in Rajasthan, you need to plan your trip carefully to have the best. Plus, whether you're visiting the place for the first time, you need to set out for the best.
Here's how you can plan your trip to Rajasthan.
Know when to go and where to go as a tourist in Rajasthan
If you are confused about where you can have maximum fun in Rajasthan, then look no further because we bring the best to you. Rajasthan is one of the best places in India.
If you do not have a Rajasthan tourist map, you might get confused about where to visit. Where you want to visit completely depends on who you are traveling with, your interest, family size, schedule, and more.
Some of the best places to visit in Rajasthan include the following.
Jaipur
The Pink City of Rajasthan, there are several tourist places in Jaipur. It would help if you visited the place in late October or early February. Two to three days is enough for exploring the Pink City of India.
Jodhpur
The Blue City of Rajasthan is someplace you can visit all around the year. The place is home to various foods and places to see. You will be taken aback by the cultural beauty of the space.
Jaisalmer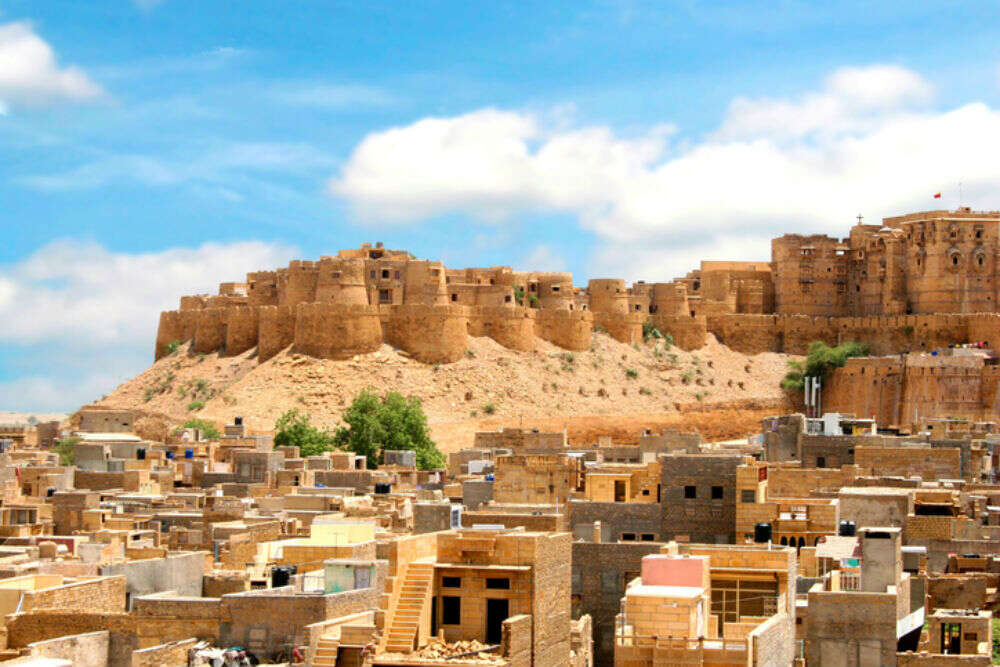 The best time to visit the Golden City is during winter. You can find several great souvenirs and other beautiful aspects of the city.
Mount Abu
The most astonishing fact about Mount Abu is that it is one significant hill station in Rajasthan. Winter and monsoon is the best time to visit this place. You can experience beautiful evenings and mornings in this region.
Bikaner
If you want to take a tour around Bikaner, a period of two days is enough. It would be best if you visited Bikaner and Bharatpur at once. A tourist in Rajasthan can enjoy this place thoroughly within two nights and three days.
How many days to stay?
Rajasthan finds itself in the list of largest States of India. It is the home to several cities such as Jaisalmer, Jodhpur, and more. You can take a stay of two days in each city to explore the best. Moreover, if you want to explore fun activities, you can extend the stay for two or three days.
Traveling with-in Rajasthan
You don't always need to book luxury cars to travel with-in Rajasthan. Instead, you can take up several local means of transport, like buses, rickshaws, and cycles. The fares are usually cheaper during the day than at night.
Please carry a proper Rajasthan tourist map, so you know where to go. Besides, make sure to take appropriate care of your belongings. Here's the list of travel options you can take when you visit Rajasthan.
Auto-rickshaw
There's no cheaper option for traveling within India than an auto-rickshaw. If you have a limited budget and a lot of luggage, you should hire an auto-rickshaw or tempo. Tempos are like an upgraded version of auto-rickshaws, just a bit significant in size.
Local and intercity Buses
You can find various urban buses when in Rajasthan. Although taxis are comfortable, you should opt for traveling in local and intercity buses. Most of these buses run between Rajasthan's major cities so that you can save a lot of money.
Cycle Rickshaw
If you want to explore the beauty of the place, a cycle rickshaw would be the best. However, you should pay for some tips for them. The cycle rickshaw is one of the primary means of transport in Rajasthan.
Wildlife In Rajasthan
Apart from palaces and forts, Rajasthan is very popular for its wildlife. The place is home to several national parks and sanctuaries.
If you're a tourist in Rajasthan who wants to feel close to flora and fauna, make sure to visit these places.
Ranthambore National Park
Ranthambore National Park is situated on the Aravali and Vindhya hills and is the home to several tigers.
It is one of India's best places if you want to see tigers in their natural habitat.
Sariska National Park
This is yet another central national park in Alwar, Rajasthan. As per the records, it is one of the most-visited places in the state. The national park is situated across an area of 800 sq. Kilometers. The National Park also houses Jaisamand Lake and Siliserh Lake.
Things to do in Rajasthan
As a tourist in Rajasthan, you can do many things that will add to the thrill. Some of these include
Camel Safari and Desert Camping
You can never go wrong with camel safari and desert camping in Rajasthan. You can stay in desert camps and experience the day of living. Furthermore, these camps host several events, like traditional dance and music. Do not miss out on the fun.
Kite Festival
This is one of the main festivals of Rajasthan during Makar Sankranti. If you visit Rajasthan during this time, you will get to explore a lot of things. You can indulge in flying kites and get the best.
Hot Air Balloon Ride
You can take a hot air balloon ride in Jaipur. It is one hour long and provides a bird-eye view of Jaipur.
Takeaway
As a tourist in Rajasthan, you should stay prepared. You need to carry all your essential belongings and get them on with you.
Happy Traveling!