Most girls and females think finding the perfect fitting yet Comfortable Supportive Bras is easier. But while looking for it, they can't say it's as easy as thought. The reason is that there might be no bras of any clothes that can perfectly fit and feel comfortable. There is always a feeling of compromise while choosing innerwear. Also, buying comfortable bras is a good investment that needs proper research to pick up the best-suited one. In this article, we will discuss various aspects related to comfortable bras. So, you can understand and choose the best inner wears for you.
What Is Called Comfortable Supportive Bras?
You might have tried various types of bras like T-shirt bras, sports bras, and strapless styles. But what makes them comfortable? The properties like stretch recovery, shrinkage after washing, and no tight no-lose fitting are the main criteria that you can see in comfortable bras. It also includes support, comfort, appearance, and type of cloth. Additionally, when you work, the bra has to keep your cups protected without pressuring them, and it's possible due to the stretching of the bra.
How To Find Correct Bra Size?
Start finding the correct bra size by measuring yourself at home. You can also ask a consultant in the store. Once you have ideas of what size may be the best suited for your body type, you must try various sizes near that value. It will help you find your best fit. Either you can find a bigger size or a smaller size when the fit is not appropriate. It is as simple as finding clothes for you because each manufacturer has different standards in sizes.
Signs That Your Bra Has Perfect Fit:
If your bra can fill out the cups entirely, it has a perfect fit. It means there has to be no gaping (because of the larger size of the cup) or overflow. 

The band of the bras can not go too high or too low on the back. Additionally, you must check if the center gore lies flat against your breast bone or not. It has to be like that.

Your shoulders have to keep straps on them, and you can adjust them to find the perfect fit. If you make the straps tighter, you will have a better lift. It supports, and you can get rid of shoulder pain.
Time To Replace Your Bra:
Most girls and women don't have an idea when to replace their old bras with comfortable supportive bras. Even if you know the life of the bras, you can replace it earlier if it loses, its stretch doesn't work, and doesn't feel comfortable and supportive. The replacement period depends on its use and washes like other clothes. The more you wear and wash, the less time you need to replace it with comfortable bras. You might also need to change it even if it doesn't lose its functionality if you see you have increased size. You can check it standing in front of the mirror and observe your body changes.

How To Choose Comfortable Supportive Bras?
All females want their wardrobe full of comfortable garments, and bras are not an exemption of it. The first thing they should know is cotton bras that are comfortable to wear. Additionally, your bras have to be easier with the skin, have soft fabric, and long haul. It has to feel comfortable while cooking, calls, and working overtime. 
Your bras have to be seamless, non-padded styles, and wire-free. It means you can enjoy all day wearing that type of bra. If you think the task to choose the best bras for you, we have listed below the top 10 best Comfortable Supportive Bras that you can buy.
This bra is quite stylish, non-padded, non-wired, and has wide straps. It means it gives extract support to the cups and feels comfortable. It doesn't have the feeling of bulging and have smoothness, and it also has a high center front that provides more coverage. You have the freedom to wear anything on this bra, and it will support your cups. Once you wear it with a cotton shirt, a few delicate necklaces, and other accessories, you feel confident.
The first and best thing about this bra is that it is a breathable cotton t-shirt bra. You can use it for everyday use undershirts, tops, and kurtas. It had seamless cups having smooth finishing without giving a chance to appear your cups. It comes with a brushed back hook and eye that makes it softer. It can give you additional support and comfort for long hours if you have to work for long. If you have loose tees, you can say it is perfect for you.
Have you ever imagined wearing sleek and sophisticated bras? If yes, this one is for you. This bra is padded, non-wired has soft foam cups, and gives comfortable wearing. You will get coverage and love wearing this bra in your life and daily tasks, and it has a light design and is comfy enough to wear. It disappears with your tees and tanks. 
From its name, you can say it helps you stay cool like cucumber because it is wire-free, non-padded, and is comfortable to wear. It is made up of moisture control technology. It keeps your perspiration away from your body and keeps moisture in control. This bra is as good at fit as you want. If you have to stay or work for hours, this bra is only for you.
This bra comes with moisture management technologies to absorb sweat and regulates moisture. It means you feel fresh all day. The bra is smooth, has detachable straps, elasticated, and smooth straps. It also has a soft hook and eye tape placed to provide maximum comfort. Whenever there is a change in weather, you don't have to worry about it. It says goodbye to underbust sweat.
Natori Pure Luxe Full Fit Bra:
This bra has one of the top positions in the list of best Comfortable Supportive Bras. It has good quality of the fabric used in it and keeps you fit well. It feels so supportive, doesn't move around, and gives ease to put on and take off. The cups are smooth from the inside. It may be the perfect bra because it is not visible through any of the T-shirts. This bra becomes best in all ways, and you can keep your cups comfortable.
Hanes Ultimate Tshirts Bra:
Have you ever thought the prices are making you fools? You may have thought that buying a perfect fit bra can be expensive and costs you a lot. But it is not right in this case. The reason is that the bra feels too comfortable even though it is inexpensive. Once you put on inside the clothes, it kook great, feels better, is secured and comfortable, and has better protection to cups. You can quickly adjust straps, and there are built-in hooks to convert it to a racerback.
ThirdLove 24/7 Classic T-shirt Bra:
Most females struggle while finding the Good Fitting for their bras, and if it is your case, you can buy ThirdLove. However, we encourage you to take a quiz before deciding on your best bra. This bra can reach your home by ordering online, and there is no need to pay shipping fees. The material is soft and comfortable with basic style and small cup size. Women like the sizes and the fit.
Bra-llelujah! Full Coverage Bra:
If you don't like the above-discussed styles, you can go for this bra. It comes in an entirely different style, and this bra closes from the front. The reasons are stretchy, hosiery, and comfortable materials. It supports your cup from top to bottom of the cup size. You can see this material will stretch more than any other bras that testers have tested. Most women wearing this bra said it felt like a second skin and become the most comfortable bras they have ever used.
Oh, So Light Comfort Wire-Free Bra:
If you love using wireless bras, you can try this last product from our list of best and comfortable supportive bras. Testers have loved this one product because it has braletter, and its style is too Flattering. This bra can fully recover to its original size and shape after stretching, and there are lesser chances to observe shrinkage even after washing well. You can stay comfortable, feel secured, and protect your cups from clothes by wearing this bra.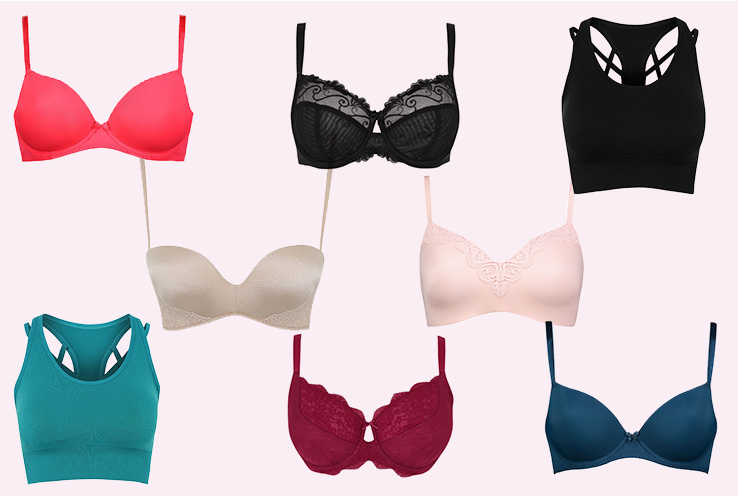 Wrapping Up:
Was this answer helpful to know about the ten best and Comfortable Supportive Bras? In this article, we have concluded the basics of a comfortable bra. We also discussed how to know your size, how to find the best comfortable bras, signs that your bra has a perfect fit, and time to replace your bra. If you have more doubts about anything related to these products, you can let us know. If you have purchased any of the above-discussed products, you can share your honest reviews here with girls and women who have confusion.
I m a passionate blogger. I have completed my MBA in IT and marketing also worked as an SEO Executive for 3 years. Now I v around 2 years of experience in writing content with multi-directional topics. I used to spend a lot of time surfing to getting exposed to the multi-topics & day to day arena of knowledge. My words have touched millions of people. Basically, I put love into words and help you connect to matters thoroughly and simply.