Green beans are one of the healthiest foods ever. People who are looking for healthy food must include green beans in their diet. The beans are easy to cook, and you can get lots of tasty green bean recipes on the internet. If you don't know how to get green beans, this article can be helpful. In this article, we will provide you with the best tips and tricks for blanching green beans. 
Benefits of eating blanched and sauteed green beans
Green beans come up with multiple benefits. If you don't know how to cook green beans, you should learn. This is because eating green beans will improve your overall health. 
Following are the significant health benefits of eating blanched and sauteed green beans:
Green beans are highly beneficial for your heart health. These do not contain cholesterol, and thus, everyone can eat green beans without worrying about the increase in blood sugar and cholesterol. Green beans also have a fair amount of fiber, which can be useful for your digestive health.
Green beans are high in protein. Thus, you will have a better immune system. Eating beans at regular intervals will also help you maintain healthy bones, hair, organ system, and muscles.

Green beans are one of the best sources of all types of vitamins. Regular consumption of green beans will help you prevent all kinds of vitamin and mineral deficiency. Green beans consist of all sorts of essential vitamins as well as folate.
What is blanching green beans?
Blanching is a simple process of submerging any vegetable inside water. But you need salted water at boiling temperature to blanch green beans. Boiling vegetables in salted water not only helps in getting rid of all types of impurities and germs, but it also helps in softening the cell wall. 
When you blanch the green beans, you will find that the color of the beans gets dull. This means that the chlorophyll color is transformed. This color change is due to air between the cell bubbling off in the hot environment and the vegetable's tissue becoming transparent. 
Tips for blanching green beans
Following a few steps of blanching will help you cook beans quickly and appropriately:
Before you start the blanching process, it is essential to trim the stem of beans with a knife or a scissor. You should also remove all tough strings that run along the length of the bean. Try not to trim the tail. Some people also like green beans to be sliced lengthwise. If you like it this way, slice it.

Some buying tips for buying green beans can be helpful. Try to avoid green beans with vivid color and texture. The texture of the green bean should be firm. The bean should make a snap sound when you break it. Try not to buy beans with brown spots and darkened stems.

Washing green tea is also susceptible to mold growth. Thus, wash green beans only when you want to use them right away.

Most people make the mistake of storing green beans in a closed bag. Instead, try to store the bean in an open bag. You can store the trimmed green beans in a container for up to 5-days.

You can also freeze the green beans so that you can prepare different recipes at regular intervals. Moreover, you can use a vacuum-sealed package to store and freeze the green beans for more than 9-months.
How to blanch green beans: step-by-step process?
Cut the stems of the green beans and wash them well. 

In the next step, put green beans in a large pot filled with water. Add salt to the water and let the water boil. 

Cook it till the green beans get the bright color and tender-crisp. This process will take almost 2-minutes.

Drain the water and shock in a water bowl filled with ice water to stop cooking.
Best recipes you can prepare by using green beans:
Spicy green beans
Heat a large-sized skillet over the gas top. Use medium heat to heat the skillet. Add oil or butter as per your taste. Add garlic, ginger, and chili flakes to get the best flavor for your tasty green beans recipe. Saute all these ingredients till you get the desired fragrance. Add beans and saute it with all elements. Add lemon juice and black pepper before you serve the delicious sauteed green beans.
Greek-salad
The Greek-green bean is fresh, crispy, as well as bursting with flavor. The best part about this greek-green bean salad is that it can be prepared within 15-minutes. To prepare this healthy recipe, start blanching the green pea in boiling water and then put it on ice. Add other raw veggies like carrots, cucumber, and lemon juice to get delicious greek-green bean salad.
Cheesy beans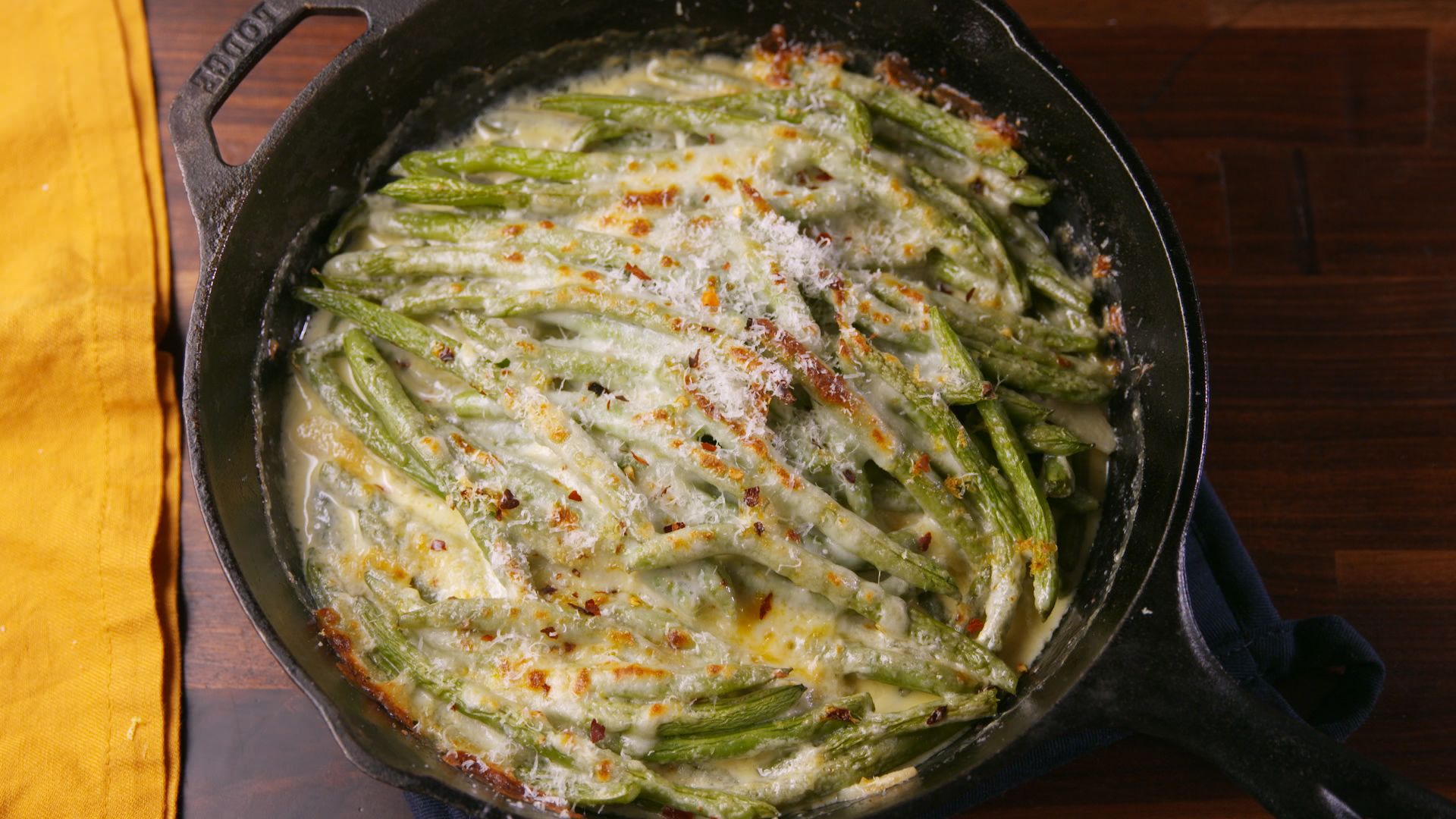 If you are in a mood to eat yummy but healthy food, a cheesy green bean can be the perfect choice to make. Please start the process by blanching the green beans and season them with salt and pepper. Top it with cheese and cover the pan with the lid to get the perfect cheese, salt, and pepper flavor. You can also top it with toasted panko while it's still hot.
If you don't like the raw taste of green beans, this may be because you don't go for the technique of blanching green beans. Blanching of beans not only keeps the flavor intact; it also helps in cooking quickly and conveniently. Try all these tips and recipes we have provided for green beans, and let us know your experience. 
Eating green beans will fulfill your nutritional requirement, and you will also get new recipes to try. The blanching technique of green beans is simple, straightforward, and comfortable. Thus, you don't need to be a pro at cooking if you want to blanch green beans. Let us know if you want more green bean recipes. We will be more than happy to help.